Dear Friend,

June 20, 2021 marks both World Refugee Day and Father's Day. In the 40+ countries where we work, we see so many fathers doing whatever it takes to ensure better lives for their families. Whether they were forced to flee their homes in order to survive, or they chose to migrate in search of opportunities, we're proud to share their stories with you.

Meet Kedir

At home in Ethiopia, Kedir's in-laws were visiting to celebrate the birth of Kedir and his wife Jamila's second child. But when violent conflict broke out in their community, they were all immediately forced to flee together to Sudan. Kedir now lives with nine family members in a small tent in Sudan's Um Rakuba refugee camp.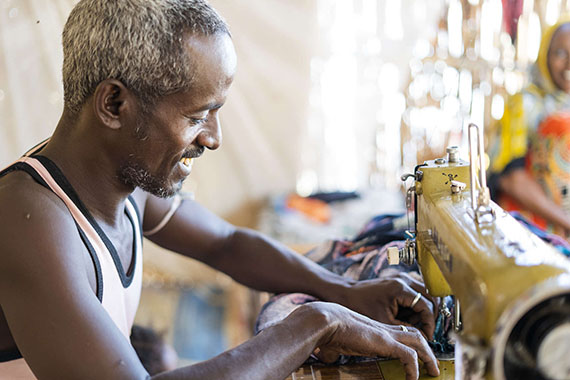 Kedir's sewing skills help him support his family in the refugee camp.


Kedir says, "My relatives in Sudan managed to get me a sewing machine and I am happy that I can now support my family in these difficult conditions." Today, Kedir's sewing business provides income for his family.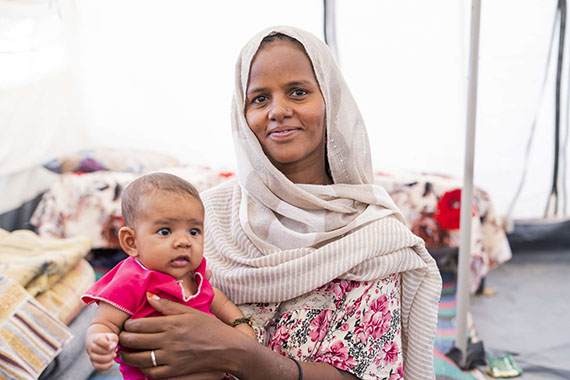 Kedir's wife Jamila holds their second child, born just three days before they fled to Sudan.


Kedir adds, "I am also glad that there is a health center here, especially because my newborn baby needed some medical assistance and now he is fine." Mercy Corps supports the Um Rakuba health center to meet the basic needs of more than 20,000 refugees. More than 60,000 Ethiopians have been displaced due to conflict in the region.

Meet Boubacar

Boubacar spent years migrating to different countries trying to earn a living, and eventually decided to go back to his home in Baleyara, Niger. "No matter where you are, home is home," he says. He got married, started a family, and started his own business — a bakery. He explains, "Baking runs in our family. Both my granddad and my dad were bakers. This is the job I learned to do from a young age. I decided to put my experiences into practice here."

But his business was struggling. Boubacar heard about Mercy Corps' financial literacy training for entrepreneurs like himself and decided to participate. "Without the intervention of Mercy Corps," he says, "I would really not be able to manage my money."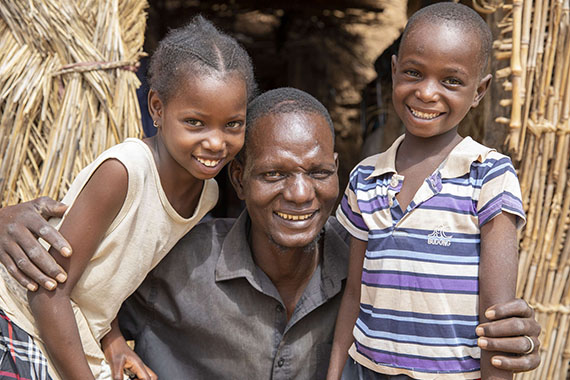 In Niger, Boubacar with his two children. Income from his bakery business helps him afford their education.


The ability to track his income and build up savings helps him better support his family. "I don't mind doing anything possible to feed my family," he says. He can now send his children to school and focus on building a stronger future for them. "I did not finish my studies, so I will make sure my kids have what I lack the most, education," he says, and adds: "Right now they are even the first in their classes!"

Meet Antonio

Antonio was born in Mexico in a small city outside of Guadalajara where his father and all of his brothers worked as carpenters. But economic opportunities were limited. So Antonio made the choice to migrate to the U.S., starting in California and eventually settling in Walla Walla, Washington, where he learned about a Mercy Corps Northwest program that would offer him education and grant money to start his own woodworking business.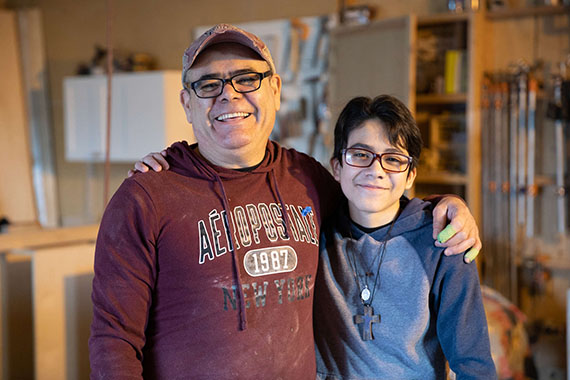 Antonio in his Walla Walla, Washington woodshop with one of his three children.


The woodshop helps Antonio support his kids, and it provides a path forward for them. He teaches them bits of the woodworking art but is careful not to lead his children to the assumption that they need to follow in his footsteps. His 14-year-old son is a straight-A student; Antonio encourages him to follow his own dreams.

"I don't want [my kids] to stay like me just cutting. But if they love this, they can make their own shop. Or — if this company is still around when they grow up — they can run the company," shares Antonio.

With the growth of his woodworking business, Antonio says, "I feel happy, and I think my future and my children's future will hopefully be good. I think in the future it will be a beautiful and big company."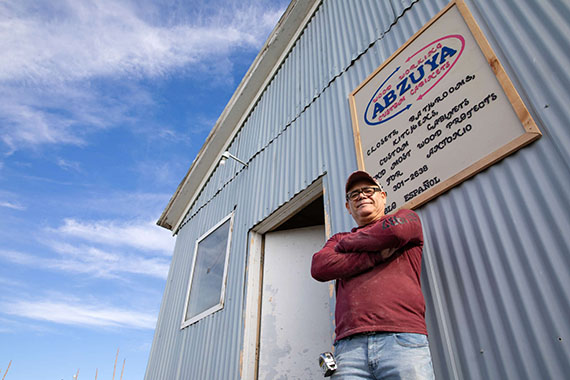 The name of Antonio's woodworking business, Abzuya, was created for Antonio's three children — it combines parts of each of their names.


From Ethiopia to Jordan to the U.S., these fathers have one concern in common: their children's future. Mercy Corps helps connect people to what they need most through a wide range of services — healthcare access, education, or business support — so they can survive today and build a foundation for tomorrow.

Your monthly gift reflects your shared belief in the power of human potential. Whether by contributing monthly with a donation, by taking a moment to read stories about inspiring people like Kedir, Ahmad, and Antonio, or just by telling someone you know about the work of Mercy Corps — you are taking a step toward a brighter future for everyone. Thank you.

—The Mercy Corps team

P.S. Your support helps fuel our life-changing work. Would you consider upgrading your monthly gift? Even a small increase can make a big difference.